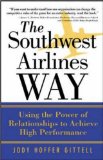 The Southwest Airlines Way

by Jody Hoffer Gittell
Over the years, several books and countless magazine and newspaper articles have been written about Southwest Airlines. Numerous MBA programs highlight the Southwest structure, its culture, its CEO, its low fares and other reasons as to why it is the bright spot in an otherwise dismally performing industry. Fortune magazine calls Southwest Airlines "the most successful airline in history." With a market value greater than the rest of the U.S. airline industry combined, Southwest Airlines is an amazing company with amazing management practices. No one, however, has completely captured the real explanation of why Southwest succeeds.
In a previous review, I highly recommended NUTS! (Southwest Airlines' Crazy Recipe for Business and Personal Success). This laugh-a-page, inspirational book captured all the delicious myth, disarming magic, original insights, and upbeat stories of a high-energy, caring, playful culture that's sometimes hard to believe. I enjoyed it thoroughly and recommended it to anyone and everyone striving to create and maintain a successful and productive culture.
Now comes The Southwest Airlines Way … an in-depth profile, based on eight years of field research on the airline industry. In this book, the author, Dr. Jody Gittell, has managed to identify and even quantify the powerful formula of Southwest's success. This effortless read is filled with actual examples of business processes at Southwest as compared to other airlines. You can easily see how basic practices based on internal values at Southwest, such as investing in leadership development and people, have made such a big difference. In fact, the findings reveal that Southwest's success is due to building high performance relationships with its people, customers, unions, vendors and suppliers, and the public in general.
Full of frontline tales of Southwest's innovative management style, this compelling book unveils the secret ingredient, high performance relationships, that has enabled Southwest to sustain a steady 10% to 15% rate of growth throughout its 32 year history while also turning a profit when few others can manage to break even. This great read reveals 10 practices that Southwest Airlines uses to build high performance relationships, and how they can be implemented in any organization—with dramatic results. The good news is that Dr. Gittell clearly identifies and explains each of these practices in a highly readable way that is also backed with data. The hard part is that these are not quick fixes and that the evidence indicates that most, if not all, of the practices must be adapted/adopted if another organization is to duplicate the success of Southwest.
This no-nonsense analysis takes a more serious look at the airline that continues to fascinate friend and foe alike. Learn why Southwest Airlines is valued higher than all other major U.S. passenger air carriers combined. Learn how, in the wake of 9-11, Southwest could keep all of its employees working and continue its unblemished record of growth and profitability as other airlines laid off thousands, begged Congress for money, and filed Chapter 11 bankruptcy protection. Learn how American, Continental, United and other airlines have tried to imitate Southwest—and why they have failed.
You may not find yourself laughing as often as you did while reading NUTS!, but you'll certainly walk away with a greater respect and much deeper insight into the unique culture that will undoubtedly continue to fascinate everyone for decades to come.
(This book review was originally published in 2003 as one of the Top 10 Books – Edition 12.)
Harry K. Jones is a motivational speaker and consultant for AchieveMax®, Inc., a company of professional speakers who provide custom-designed seminars, keynote presentations, and consulting services. Harry's top requested topics include change management, customer service, creativity, employee retention, goal setting, leadership, stress management, teamwork, and time management. For more information on Harry's presentations, please call 800-886-2629 or fill out our contact form.