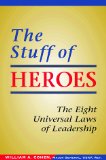 The Stuff of Heroes: The Eight Universal Laws of Leadership

by William A. Cohen
Dr. William A. Cohen presents the high road to leadership through the eyes of hundreds of outstanding chief executives and combat leaders. This is a book that shows you how to get ahead, not by fighting your way to the top but by helping others to the top.
What does it take to be an outstanding leader? Creative genius? A tough image? Charismatic charm? No, it's much simpler. But it's also much harder. Do you have what it takes? Are you willing to do what is right even when no one is looking? That's the essence of universal law number one—what Peter Drucker calls Cohen's "root law." Integrity is a simple concept, but Dr. Cohen brings it to dramatic life with stirring tales from combat, and he demonstrates its complexity in the real life of business.
This book will show you how to develop and put to use a variety of sound and proven principles. The author's practical advice and pointed anecdotes from leaders who have passed the test will inspire and encourage you. The benefits to both your organization and your personal and professional life will be tremendous.
(This book review was originally published in 1999 as one of the Top 10 Books – Edition 1.)
Harry K. Jones is a motivational speaker and consultant for AchieveMax®, Inc., a company of professional speakers who provide custom-designed seminars, keynote presentations, and consulting services. Harry's top requested topics include change management, customer service, creativity, employee retention, goal setting, leadership, stress management, teamwork, and time management. For more information on Harry's presentations, please call 800-886-2629 or fill out our contact form.