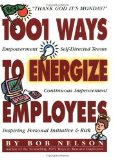 1001 Ways to Energize Employees

by Bob Nelson
Take the brakes off your business. From management specialist and author of 1001 Ways to Reward Employees comes a practical handbook full of ideas for increasing employee involvement and enthusiasm—the key to an organization's success. Weaving together case studies, examples, suggestions, and quotes from hundreds of American's most energized businesses and business leaders, this book is a how-to for getting not just the most—but the best—from everyone in the organization.
(This book review was originally published in 1999 as one of the Top 10 Books – Edition 1.)
Harry K. Jones is a motivational speaker and consultant for AchieveMax®, Inc., a company of professional speakers who provide custom-designed seminars, keynote presentations, and consulting services. Harry's top requested topics include change management, customer service, creativity, employee retention, goal setting, leadership, stress management, teamwork, and time management. For more information on Harry's presentations, please call 800-886-2629 or fill out our contact form.