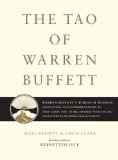 The Tao of Warren Buffett: Warren Buffett's Words of Wisdom: Quotations and Interpretations to Help Guide You to Billionaire Wealth and Enlightened Business Management

by Mary Buffett and David Clark
Here's another of those novel "mini-books" (172 pages) that seem so popular in this day and age of readers pressed for time. This one, however, is a bit unique in a number of ways. For instance, note that the subtitle alone is longer than many of today's "mini-books." In addition, that lengthy title might be a bit misleading. While it is indeed factual, I think it's more accurate to say this is a book of 125 insightful quotations from one of the most colorful Americans on the financial scene today.
Warren Buffett is a famed American businessman, investor, and philanthropist as well as the largest shareholder and CEO of Berkshire Hathaway. He has consistently ranked as the #1 or #2 richest man in the world for as long as one can recall. Earlier in the year, we featured Buffett in our blog series Little-known Facts about Well-known Leaders. Click on this link to learn why this man is one of today's most interesting American trailblazers.
Among Buffett's observations in this book, you'll find many enlightening truisms on investing, business management, choosing a career, and pursuing a successful life. Following each comment you'll find additional remarks from the co-authors as they attempt to reveal the life philosophy and the investment strategies that have made Warren Buffett, and the shareholders of Berkshire Hathaway, so enormously wealthy.
Mary Buffett—ex-daughter-in-law and author of three books on Warren Buffett's investment methods—joins noted Buffettologist and international lecturer David Clark in this ambitious task.
This edition makes a great gift as it reveals Warren Buffett's worldly wisdom … which is deceptively simple and enormously powerful in application. For instance:
"Wall Street is the only place that people ride to in a Rolls-Royce to get advice from those who take the subway."
"Never be afraid to ask for too much when selling or offer too little when buying."
"It is impossible to unsign a contract, so do all your thinking before you sign."
"The chains of habit are too light to be felt until they are too heavy to be broken."
"Never ask a barber if you need a haircut."
"Someone is sitting in the shade today because someone planted a tree a long time ago."
The Tao of Warren Buffett will inspire, entertain, sharpen your mind, and provide the kind of priceless investment savvy that made Warren Buffett one of today's most respected American leaders. This "mini-book" is destined to become a classic.
(This book review was originally published in 2009 as one of the Top 10 Books – Edition 19.)
Harry K. Jones is a motivational speaker and consultant for AchieveMax®, Inc., a company of professional speakers who provide custom-designed seminars, keynote presentations, and consulting services. Harry's top requested topics include change management, customer service, creativity, employee retention, goal setting, leadership, stress management, teamwork, and time management. For more information on Harry's presentations, please call 800-886-2629 or fill out our contact form.