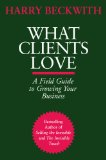 What Clients Love: A Field Guide to Growing Your Business

by Harry Beckwith
Harry Beckwith is a critically-acclaimed international best-selling author, best known for his marketing classics Selling the Invisible and The Invisible Touch. He heads Beckwith Partners, a marketing and branding firm that has advised 29 Fortune 500 clients … including Microsoft, GM and Target. Beckwith is also an internationally acclaimed speaker and teacher on marketing and customer relationships.
What I really appreciate and enjoy about this book is the fact that I can open the book to any page and start highlighting content. This reader-friendly format doesn't require that I start with chapter one and read chronologically until finished. There are approximately 175 short 2- to 3-page essays allowing you to choose those which most intrigues you or best meet your needs immediately.
Beckwith focuses on selling, servicing, and branding in a marketplace where the average consumer is deluged with 3,200 advertising messages a day. He also addresses successful approaches to positioning, marketing, client attraction, customer retention, and communication strategies emphasizing the importance of every member of an organization contributing to its growth.
I especially enjoyed his many references to pop culture, motion pictures, clever ads we're all familiar with, and lessons learned from so many of the companies we all know and patronize.
Beckwith also provides readers with "A 7-Page Checklist of Questions to Ask in Building an Exceptional Business," "A Reading List for Growing a Business," as well as 20 questions for choosing a name for your business.
The author applies his unequaled clarity, insight, humor and expertise to a new age of global competition, mass communication, financial challenges, and mass confusion. He shares four crucial trends we must all deal with in our pursuit of success:
Option and Information Overload
The Decline of Trust
The Rise of Invisibles and Intangibles
The Wish to Connect
Rather than describing the unique content of this book, I think you'll get a better idea of what to expect by sharing some of the essay content titles. You'll quickly realize this book certainly has something for everyone.
Finding the White Hot Center
The End of Missions
Fortune Favors the Bold
New Economy, Same People
Mark Twain's Marketing Lesson
Harpers, McPaper, and Tiger
Wield a Velvet Sledgehammer
What Would Aesop and Jesus Do?
Lincoln Had No Slides At Gettysburg
Think Pterodactyls and Typhoons
Familiarity and the New 80/20 Rule
Gerber Unbaby Food and Salty Lemonade
Omaha Surfing and Jefferson Airplane
Clients Love Odd Things
Harley, Ogilvy and the Incredible Shrinking Name
Imagineering's Six Commandments
Clients Understand with their Eyes
Boiled Critter at Tiffany's
What Your Clients Actually Buy
Efficient Tools Aren't
Your Fastest Way to Improve Client Satisfaction
Ten Rules of Business Manners
Ritz-Carlton's Shortcut to Satisfied Customers
Why Do Some People and Businesses Thrive?
If these few examples don't tweak your interest, this book isn't for you. In addition, you're going to miss some terrific tips, tools and strategies which can be easily and quickly transferred back to your workplace to insure greater success. Better hope your competitors don't read this one.
(This book review was originally published in 2009 as one of the Top 10 Books – Edition 19.)
Harry K. Jones is a motivational speaker and consultant for AchieveMax®, Inc., a company of professional speakers who provide custom-designed seminars, keynote presentations, and consulting services. Harry's top requested topics include change management, customer service, creativity, employee retention, goal setting, leadership, stress management, teamwork, and time management. For more information on Harry's presentations, please call 800-886-2629 or fill out our contact form.