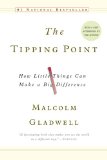 The Tipping Point: How Little Things Can Make a Big Difference

by Malcolm Gladwell
Why did crime in New York drop so suddenly in the mid-90s? How does an unknown novelist end up a best-selling author? Why is teenage smoking out of control, when everyone knows smoking kills? What makes TV shows like Sesame Street so good at teaching kids how to read? Why did Paul Revere succeed with his famous warning?
In this brilliant and groundbreaking book, the author looks at why major changes in our society so often happen suddenly and unexpectedly. Ideas, behavior, messages, and products, he argues, often spread like outbreaks of infectious disease. Just as a single sick person can start an epidemic of the flu, so too can a few fare-beaters and graffiti artists fuel a subway crime wave, or a satisfied customer fill the empty tables of a new restaurant. These are social epidemics, and the moment when they take off, when they reach their critical mass, is the tipping point.
This book is written with an infectious enthusiasm for the power and joy of new ideas. Most of all, it is a road map to change, with a profoundly hopeful message—that one imaginative person applying a well-placed lever can move the world!
(This book review was originally published in 2000 as one of the Top 10 Books – Edition 3.)
Harry K. Jones is a motivational speaker and consultant for AchieveMax®, Inc., a company of professional speakers who provide custom-designed seminars, keynote presentations, and consulting services. Harry's top requested topics include change management, customer service, creativity, employee retention, goal setting, leadership, stress management, teamwork, and time management. For more information on Harry's presentations, please call 800-886-2629 or fill out our contact form.