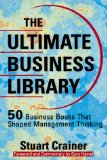 The Ultimate Business Library: 50 Books That Shaped Management Thinking (Ultimate Business Series)

by Stuart Crainer
Here is a Business Library for your business library. In 323 pages, you'll find a one-stop guide that provides succinct, insightful summaries of 50 books that have changed the business world—broken new ground, set new standards, or revolutionized old, entrenched concepts.
Of the thousands of business books which have been published over the past century, do you know which ones represent truly breakthrough thinking? Do you know who created these landmark concepts: reengineering, discontinuous change, scientific management, satisfying the customer? This unique collection provides a complete overview of the art of management.
The summaries are written in a crisp, lively style that helps clarify the concepts of the original works, no matter what time period they are from. In addition, Gary Hamel, another noted author, has written a brief commentary on each book. His illuminating insights provide context to help us understand the place of each book in business history.
In addition to the "top 50," the book also includes mini-descriptions of 50 "runners-up"—other management books that have had significant impact. This is a book full of ideas—and an idea can cause a revolution. The Ultimate Business Library is the best way to get up to speed on important business ideas. It might even inspire you to create some breakthrough ideas of your own!
You'll wear the book cover off this gem!
(This book review was originally published in 2001 as one of the Top 10 Books – Edition 8.)
Harry K. Jones is a motivational speaker and consultant for AchieveMax®, Inc., a company of professional speakers who provide custom-designed seminars, keynote presentations, and consulting services. Harry's top requested topics include change management, customer service, creativity, employee retention, goal setting, leadership, stress management, teamwork, and time management. For more information on Harry's presentations, please call 800-886-2629 or fill out our contact form.