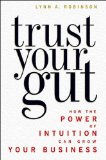 Trust Your Gut: How the Power of Intuition Can Grow Your Business

by Lynn A. Robinson
Today's top business leaders work with their "inner CEO" to win big accounts, elevate productivity, increase sales and profits, resolve critical issues, and grow their organizations. That "inner CEO" is better known as intuition.
As you probably know, intuition is one of the fastest spreading buzzwords in the business world today. It has become increasingly important to decision makers at every level who are inundated with an unfathomable amount of data in this technical age of instant info.
Best-selling books such as Blink, Megatrends and Winning focus on the "what" of intuition. In Trust Your Gut, business consultant Lynn Robinson gives us the "how" part of accessing this incredibly valuable inner resource to make quicker, stronger, better decisions on a regular basis.
I found a great number of brief, decisive features that were real eye openers, such as:
A variety of "intuitive break" strategies.
The strength of a "power nap."
"Freeze-Framing" as a strategy.
You've Got "I-Mail."
13 ways to inspire creativity and intuition in your team.
The magic of metaphors.
Why enthusiasm is a message from your intuition.
The five questions to ask your intuition when you're making a decision.
The 90-second activity you must do every day to achieve your goals easily and effortlessly.
How to motivate prospects to take action.
How to recognize the "power hunches" that will direct you to success and add to your bottom line.
Throughout the book, Lynn Robinson sprinkles testimonials from corporate and small business leaders who actively use their intuition. These comments are helpful to those who would like to use their intuition but are afraid it's too "out there."
Lynn Robinson, M.Ed., is one of the nation's leading experts on the topic of intuition. She's a popular and widely recognized author and motivational speaker who works with businesses and individuals as an intuitive consultant, providing insights into goals, decisions and strategies, and teaching the use of intuitive skills for assessment of information. Lynn is the "Life Transition Expert" and advice columnist for ThirdAge.com, the leading Web destination for baby boomers.
For decades, successful leaders have recognized the fact that the gut never lies and should be believed first. They have fine-tuned this tremendous asset as they would any potential individual resource. You can and should do the same thing. What's your "gut feeling" on that suggestion?
(This book review was originally published in 2007 as one of the Top 10 Books – Edition 16.)
Harry K. Jones is a motivational speaker and consultant for AchieveMax®, Inc., a company of professional speakers who provide custom-designed seminars, keynote presentations, and consulting services. Harry's top requested topics include change management, customer service, creativity, employee retention, goal setting, leadership, stress management, teamwork, and time management. For more information on Harry's presentations, please call 800-886-2629 or fill out our contact form.