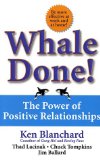 Whale Done!: The Power of Positive Relationships

by Ken Blanchard
This talented author, speaker and business consultant possesses a very unique God-given gift, as a storyteller, for making the seemingly complex easy to understand. He has done exactly that in the millions of books he has sold worldwide in more than 25 languages. When Ken speaks, he does so from the heart with warmth and humor. His unique gift is to speak to an audience and communicate with each person as if they were alone together. He is often described by his many fans as being one of the most insightful, powerful, and compassionate men in business today.
His rapidly-growing library of work includes such best sellers as Raving Fans, High Five!, Gung Ho!, Mission Possible, Everyone's a Coach, Management by Values, The Heart of a Leader, Leadership by the Book, Empowerment Takes More Than a Minute, and his renowned series of One Minute Manager titles. Whale Done! is destined to join this list of best sellers.
As usual, Dr. Blanchard weaves a moving and inspirational yarn that will impact readers in a very positive and productive way. He'll relate the similarities between employees, family members, friends and five-ton killer whales through the eyes of a gruff business manager and family man visiting SeaWorld. He reveals the research that substantiates the fact that both people and whales perform better when you accentuate the positive, build trust, and redirect negative behavior. He demonstrates how using the techniques of animal trainers—specifically those responsible for the killer whales of SeaWorld—can supercharge your effectiveness at work and at home.
Fictional business manager Wes Kingsley examines his own often accusatory management style and recognizes how some of his shortcomings as a manager and family man actually diminish trust and damages relationships. Join Wes in mastering and applying the powerful techniques that will allow you to become a better parent, more committed spouse, and more effective and respected leader. This 123-page tale is certainly Whale Done!
(This book review was originally published in 2002 as one of the Top 10 Books – Edition 10.)
Harry K. Jones is a motivational speaker and consultant for AchieveMax®, Inc., a company of professional speakers who provide custom-designed seminars, keynote presentations, and consulting services. Harry's top requested topics include change management, customer service, creativity, employee retention, goal setting, leadership, stress management, teamwork, and time management. For more information on Harry's presentations, please call 800-886-2629 or fill out our contact form.