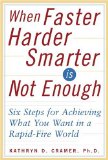 When Faster-Harder-Smarter Is Not Enough: Six Steps for Achieving What You Want in a Rapid-Fire World

by Kathryn D. Cramer
Again, we find an author who is focusing on the importance of learning to manage your time and deal with the growing number of stressors in your life. Do you ever feel over-extended and that demands on your attention exceed the amount of time and energy you have to cope with them? Is your in-box overflowing as your unanswered e-mail list continues to grow? We are living in a time of unprecedented stress. In order to accomplish more, we try to do things faster, harder, and smarter, using our intelligence, organizational skills, and determination. However, our responsibilities accumulate faster than we can work!
Now Dr. Kathryn Cramer has come along to wake us up. Faster, harder, and smarter sometimes works in the short term, but for the long haul we need to rethink our whole agenda. Tackling the world's largest "to do" list is not really a life plan. Using Dr. Cramer's six steps, we can shape a compelling vision of what we want to achieve, so that everything we do fuels—and is fueled by—this greater purpose. Instead of faster, harder, and smarter, we learn to live richer, deeper, and wiser. Dr. Cramer shows us how to recognize our deepest desires and how to tap into our greatest capabilities. By infusing our lives with meaning, we can let go of frustration and irrelevant tasks, and instead focus on what we need to do to achieve a future that will bring us joy and satisfaction.
A quick glance at her six steps will reveal a game plan that taps the inner strength and creativity needed to achieve long-term fulfillment.
Take Your Blinders Off (How to see What You Don't See)
Be Outrageously Optimistic (How to See Potential, not Problems)
Make the Future Happen Inside You (How to Walk Your Talk)
Get Others on Board (Build Strong Alliances—Communicate to Motivate)
Stack the Odds in Your Favor (How to Build Momentum)
Celebrate Every Victory, Large and Small (How to Leverage Your Success and Wake Up to What's Next)
This is good, practical guidance for those ready to make changes. This book won't supply you with breathless tips for squeezing 25 hours out of each day or provide you with no-nonsense guidelines for achieving what you want no matter what the cost. Instead, this enlightening, life-affirming book discusses the many ways in which you can learn to succeed and grow amidst the worry, stress, and pressure of today's rapid-fire world, and become energized—instead of overwhelmed—by the pressures and anxieties of life.
(This book review was originally published in 2001 as one of the Top 10 Books – Edition 9.)
Harry K. Jones is a motivational speaker and consultant for AchieveMax®, Inc., a company of professional speakers who provide custom-designed seminars, keynote presentations, and consulting services. Harry's top requested topics include change management, customer service, creativity, employee retention, goal setting, leadership, stress management, teamwork, and time management. For more information on Harry's presentations, please call 800-886-2629 or fill out our contact form.