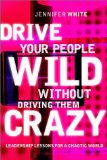 Drive Your People Wild Without Driving Them Crazy: Leadership Lessons for a Chaotic World

by Jennifer White
I'm beginning to see more and more authors focus on the importance of "balance." It obviously affects the peace of mind, progress and productivity of their employees. However, more and more leaders are recognizing the impact of employee balance on the bottom line as well.
Under pressure, some leaders become dictators believing that they have to drive performance from their people. What do they get? Long hours, more stress, more chaos, and mediocre performance. Jennifer White has created a unique seven-part process that will help business leaders produce the right results when it matters the most, show them how to inspire their employees to be high performers even if the economy is slowing, and convince them that it is possible for everyone to make it home in time for dinner without sacrificing company results.
In this revolutionary book, Jennifer White helps leaders marry two apparently conflicting ideas, success at work and success at home, with the aim of creating profitable companies that retain top-producing employees. Chapter titles alone set the tone for this comprehensive, realistic, and user-friendly manual for entrepreneurs, managers, and CEOs alike!
Chapter #1: Transform Chaos into Sanity (timely, practical advice on walking the fine line between chaos, creativity and sanity by creating some elements of consistency)
Chapter #2: Honor Your People (harnessing the collaborative power of your people to get results)
Chapter #3: Maximizing Productivity (doing less to achieve more)
Chapter #4: Use Speed to Your Advantage (the importance of speed—but not for speed's sake)
Chapter #5: Leverage Their Strength (stop focusing on skills your people don't have and leverage those they do have)
Chapter #6: Communicate with Power (develop a compelling message your people want to hear, never straying from the absolute truth)
Chapter #7: Get a Life (the importance of getting your people home for dinner. How many books have you read with a chapter devoted to this goal?)
If you are interested in your growth as a leader and are up to the challenge presented by Jennifer and her team of coaches, this book should be on your shelf. You'll be challenged by the exercises and educated by the case studies, quizzes and common-sense approaches to a long-time challenge for anyone trying to lead people. Yes, you will be asked to be honest with yourself and, if you are, you'll benefit greatly.
(This book review was originally published in 2001 as one of the Top 10 Books – Edition 9.)
Harry K. Jones is a motivational speaker and consultant for AchieveMax®, Inc., a company of professional speakers who provide custom-designed seminars, keynote presentations, and consulting services. Harry's top requested topics include change management, customer service, creativity, employee retention, goal setting, leadership, stress management, teamwork, and time management. For more information on Harry's presentations, please call 800-886-2629 or fill out our contact form.