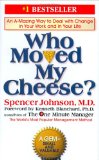 Who Moved My Cheese?: An Amazing Way to Deal with Change in Your Work and in Your Life

by Spencer Johnson, M.D.
Spencer Johnson is an internationally-known bestselling author who originated and co-authored The One-Minute Manager as well as The One-Minute $ales Person, One-Minute Mother, One-Minute Father, One-Minute Teacher and One Minute For Yourself.
Who Moved My Cheese? is a simple parable that reveals profound truths about change. It is an amusing and enlightening story of four characters who live in a "Maze" and look for "Cheese" to nourish them and make them happy.
"Cheese" is a metaphor for what you want to have in life—whether it is a good job, a loving relationship, money, a possession, health or spiritual peace of mind.
And the "Maze" is where you look for what you want—the organization you work in, or the family or community you live in. In the story, the characters are faced with unexpected change. Eventually, one of them deals with it successfully, and writes what he has learned from his experience on the maze walls. When you come to see "The Hand-writing On The Wall," you can discover for yourself how to deal with change, so that you can enjoy less stress and more success in your work and in your life.
Written for all ages, the story takes less than an hour to read, but its unique insights can last for a lifetime!
(This book review was originally published in 1999 as one of the Top 10 Books – Edition 1.)
Harry K. Jones is a motivational speaker and consultant for AchieveMax®, Inc., a company of professional speakers who provide custom-designed seminars, keynote presentations, and consulting services. Harry's top requested topics include change management, customer service, creativity, employee retention, goal setting, leadership, stress management, teamwork, and time management. For more information on Harry's presentations, please call 800-886-2629 or fill out our contact form.