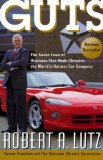 Guts: The Seven Laws of Business That Made Chrysler the World's Hottest Car Company

by Robert A. Lutz
Robert Lutz recently retired as vice chairman of Chrysler Corp. He has held senior management positions in four of the world's top car companies: Ford, General Motors, BMW, and Chrysler. What else would you expect from a vegetarian who loves a good cigar, a high-achiever who didn't graduate from high school until he was 22, a former Marine fighter pilot whose "Law Of Life" is a line from a Rolling Stones song?
In this intriguing approach to leadership, Lutz explains how and why every organization must cultivate a "split personality" combining common sense with freewheeling creativity. It defines the leader's role in maintaining a healthy balance between the two. And it argues that a dynamic tension between them is the prime attribute that enables top-performing companies to introduce new products and achieve record profits.
(This book review was originally published in 1999 as one of the Top 10 Books – Edition 1.)
Harry K. Jones is a motivational speaker and consultant for AchieveMax®, Inc., a company of professional speakers who provide custom-designed seminars, keynote presentations, and consulting services. Harry's top requested topics include change management, customer service, creativity, employee retention, goal setting, leadership, stress management, teamwork, and time management. For more information on Harry's presentations, please call 800-886-2629 or fill out our contact form.