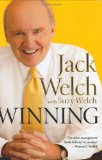 Winning

by Jack Welch with Suzy Welch
Jack Welch has written a number of books on a variety of subjects such as leadership, management, business, values, and competition, to name just a few. Even more books have been written about him and his illustrious career with General Electric. When this particular book hit the book stores, I received a number of comments, via e-mail and in person, from friends and associates who were eager to share their impressions. Oddly enough, the reviews were mixed. In fact, they ranged from one end of the spectrum to the other. Several told me it was the very best book they've read by and/or about the man who Fortune Magazine crowned "Manager of the Century," Others told me that it was nothing more than a re-hash of every other book he's written. After reading the book myself, I could obviously identify with both viewpoints. In fact, I did. However, I believe this outcome was intentional for a number of reasons.
Winning was a joint effort for Jack and his wife Suzy. His talented wife is the former editor of the Harvard Business Review. She attended Harvard University and the Harvard Business School, and is the author of numerous articles about leadership, creativity, change and organizational behavior, and a contributor to several books about general management.
I must admit I've met very few people who are neutral on the subject of Jack Welch. Most everyone seems to love the man or hate the man. That might have something to do with the fact that the man's personal life differed somewhat from his management philosophies. Obviously, readers focus more on one than the other. Those who choose to focus on his personal life, may very well find reason to disapprove of him. However, if you want some simple, powerful and proven management practices, then he is arguably one of the best ever.
Personal feelings aside, you can't ignore the facts. Jack Welch knows how to win. During his forty-year career at General Electric, he led the company to year-after-year success around the globe, in multiple markets, against brutal competition. He transformed the industrial giant from a sleepy "Old Economy" company with a market capitalization of $4 billion to a dynamic new one worth nearly half a trillion dollars.
His honest, be-the-best style of management became the gold standard in business, with his relentless focus on people, teamwork, and profits. Since Welch retired in 2001 as chairman and chief executive officer of GE, he has traveled the world, speaking to more than 250,000 people and answering their questions on dozens of wide-ranging topics. He decided to write this book as a way to provide documented answers to the many questions he received during his travels.
Welch's objective in this book is to speak to people at every level of the organization, in companies large and small. His audience is everyone from line workers to college students and MBAs, from project managers to senior executives.
He kicks things off with an introductory section called "Underneath It All" where he shares his personal business philosophy.
The core of the book is then divided into three sections:
He looks inside the company, from leadership to picking winners to making change happen.
He looks outside at the competition focusing on strategy, mergers, and Six Sigma to name just a few areas.
Here he focuses on managing your career—how to find the right job, get promoted, deal with a bad boss, and achieve work-life balance.
The final section of the book Welch calls "Tying Up Loose Ends." Those interested in the human side of great leaders will find this last section especially appealing. In it, Welch answers the most interesting questions that he's received in the last several years while traveling the globe addressing audiences of executives and business-school students.
Critics seem to agree that Winning is destined to become the bible of business for generations to come. To avoid the content of this book because you disapprove of Jack—the man—would be a disservice to you, the student of leadership. There is a wealth of valuable insights, original thinking, and solutions to nuts-and-bolts problems within these pages. It's difficult to think of anyone in business who wouldn't benefit from reading this savvy, engaging cubicle-to-boardroom guide to success.
(This book review was originally published in 2005 as one of the Top 10 Books – Edition 13.)
Harry K. Jones is a motivational speaker and consultant for AchieveMax®, Inc., a company of professional speakers who provide custom-designed seminars, keynote presentations, and consulting services. Harry's top requested topics include change management, customer service, creativity, employee retention, goal setting, leadership, stress management, teamwork, and time management. For more information on Harry's presentations, please call 800-886-2629 or fill out our contact form.