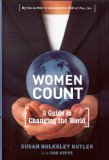 Women Count: A Guide to Changing the World

by Susan Bulkeley Butler with Bob Keefe
It might be of interest to readers to know a little bit about this author in order to appreciate the expertise and experience behind the revealing content, case studies, and rallying cry to be found within these 135 pages.
Susan Bulkeley is CEO of the Susan Bulkeley Butler Institute for the Development of Women Leaders (www.sbbinstitute.org). She also made business history as the first woman professional and first woman partner at the company that eventually became Accenture, the $19 billion global management consulting, technology services, and outsourcing organization. She certainly knows of what she speaks.
In Women Count, the author enlightens us with the fact that history is filled with stories of women who overcame sexism and other odds to go on to greatness. Readers will learn about:
Deborah Sampson, the first American woman to join the Army.
Catherine Littlefield Greene who invented the cotton gin.
Susan B. Anthony who created the National Women's Suffrage Association who eventually earned the right for women to vote.
Amelia Earhart who became the first woman to fly solo across the Atlantic.
and many others.
Over the years, we've learned that woman have made great strides here in the U.S.:
 Fortune Magazine states that the number of Fortune 500 women CEOs has increased four-fold over the past decade.
"A Woman's Nation" report informs readers that 40% of mothers are now their family's primary breadwinner, and 60% of mothers bring home at least 1/4 of their family's income.
Time Magazine reports that 54% of men and 69% of women say they believe there would be fewer problems in the world if there more women in business and government.
Women represent 1/2 of the country's population, half of the country's college graduates, and around 51% of the country's workforce.
While these figures paint a very positive picture of women's progress over the past decades, it is far from what it should be. Consider:
Less than 3% of the top executives in America's biggest companies are women.
Less than 16% of the directors of Fortune 500 companies in America are women.
Only 17% of members of Congress are women.
As of last year, only 6 of the nation's 50 governors are women.
Four decades after Congress passed the Equal Pay Act, women still earn an average of 75 cents for every dollar men earn!
Author Susan Bulkeley Butler issues a challenge and game plan for women to step into their power and become "women who count." She believes that then, and only then, can women truly change the world. For those who believe that the world greatly needs the unique abilities of women to lead our country to the greatness it deserves … this is a must read!
Women Count: A Guide to Changing the World
is available from Amazon. The AchieveMax® company is an affiliate of Amazon.com.
Harry K. Jones is a motivational speaker and consultant for AchieveMax®, Inc., a company of professional speakers who provide custom-designed seminars, keynote presentations, and consulting services. Harry's top requested topics include change management, customer service, creativity, employee retention, goal setting, leadership, stress management, teamwork, and time management. For more information on Harry's presentations, please call 800-886-2629 or fill out our contact form.