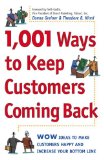 1,001 Ways to Keep Customers Coming Back: WOW Ideas That Make Customers Happy and Will Increase Your Bottom Line

by Donna Greiner and Theodore Kinni
You can now have the customer-service secrets of the world's most successful businesses right at your fingertips. The authors spent five years uncovering how Nordstrom, Southwest Airlines, Ritz-Carlton, American Express, and many other world-class companies keep their customers for life. You'll find these customer-retention ideas to be timely, entertaining, and brilliantly inventive. You'll discover the secrets to:
Creating products/services tailored to your customers' needs
Using three kinds of guarantees to build customer trust
Turning first-time customers into frequent buyers 
This book identifies the companies and individuals who have found successful techniques, strategies, and programs that not only satisfy customers but keep them coming back and bringing others. It's a quick, easy read that you'll want to share with your entire staff.
(This book review was originally published in 2000 as one of the Top 10 Books – Edition 5.)
Harry K. Jones is a motivational speaker and consultant for AchieveMax®, Inc., a company of professional speakers who provide custom-designed seminars, keynote presentations, and consulting services. Harry's top requested topics include change management, customer service, creativity, employee retention, goal setting, leadership, stress management, teamwork, and time management. For more information on Harry's presentations, please call 800-886-2629 or fill out our contact form.