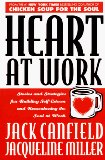 Heart at Work

by Jack Canfield and Jacqueline Miller
This is a priceless, best-selling collection of inspirational stories about bringing back self-esteem to the workplace and creating a happier environment that ultimately leads to greater productivity and profit. Compiled by Jack Canfield, co-author of the best-selling Chicken Soup for the Soul series, and Jacqueline Miller, this treasury of soulful wisdom shows leaders from every level how to use the power of self-esteem to empower, energize, and motivate their co-workers to bring out the best.
Overflowing with positive yet practical advice, proven strategies, and personal testimonies from every rung of the corporate ladder—from CEOs to busboys—Heart at Work is a much needed dose of inspiration for today's increasingly impersonal workplace.
(This book review was originally published in 2000 as one of the Top 10 Books – Edition 5.)
Harry K. Jones is a motivational speaker and consultant for AchieveMax®, Inc., a company of professional speakers who provide custom-designed seminars, keynote presentations, and consulting services. Harry's top requested topics include change management, customer service, creativity, employee retention, goal setting, leadership, stress management, teamwork, and time management. For more information on Harry's presentations, please call 800-886-2629 or fill out our contact form.