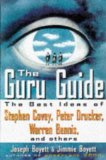 The Guru Guide: The Best Ideas of the Top Management Thinkers

by Joseph Boyett and Jimmie Boyett
Wouldn't it be nice if you had the time to read all of the business books that hit the best-seller list? Well, if you're striving to make your mark in the business world, you simply don't have that kind of time. However, it's obvious that you do need the essential information they contain. You need to keep up with the latest business trends and understand emerging ideas and new terminology. It certainly wouldn't hurt to have concise, penetrating explanations of today's most advanced thinking on business management and leadership.
In this easy-to-use primer, two internationally respected business consultants provide an executive summary of the most effective and successful management ideas put forth by the leading business thinkers and doers of our time: Peter Drucker, Stephen Covey, Warren Bennis, Michael Hammer, Margaret Wheatly, Peter Senge, and many more. They also give you:
Clear explanations of essential business terms, concepts, and theories
Profiles of more than 75 top management figures and their ideas
Cross-links to issues on which these gurus agree and disagree
Insightful commentaries and real-life case studies
Quick-reference charts, bulleted lists, chapter summaries, and other creative quick-learning tools.
The Guru Guide is a must for your personal and/or corporate library!
(This book review was originally published in 2000 as one of the Top 10 Books – Edition 5.)
Harry K. Jones is a motivational speaker and consultant for AchieveMax®, Inc., a company of professional speakers who provide custom-designed seminars, keynote presentations, and consulting services. Harry's top requested topics include change management, customer service, creativity, employee retention, goal setting, leadership, stress management, teamwork, and time management. For more information on Harry's presentations, please call 800-886-2629 or fill out our contact form.