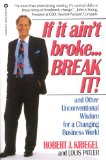 If it Ain't Broke … Break It!: And Other Unconventional Wisdom for a Changing Business World

by Robert J. Kriegel
Before tickling our funny bones with his best-selling classic Sacred Cows Make the Best Burgers, Bob Kriegel shared his unconventional wisdom with readers via this hard-to-put-down, uniquely humorous approach to the subject of change.
In this book, the author points out that today's business people have to turn the old rules inside out, upside down, and backwards not only to succeed, but to survive! He shows us how to unlock the creative thinker within us, to work smarter, not harder, and to explore new and different paths. You will discover how to break the rules of business—and break away from the pack. 
You'll enjoy hundreds of real-life examples of break-it thinking from the annals of Hewlett-Packard, IBM, Norwegian Cruise Lines, Apple Computer, The U.S. Olympic Team, PepsiCo., The L.A. Lakers, Procter & Gamble, Levi-Strauss, AT&T, L.L. Bean, The San Francisco 49ers, and many, many more.
You'll laugh and learn with this must-have addition to any business library!
(This book review was originally published in 2000 as one of the Top 10 Books – Edition 5.)
Harry K. Jones is a motivational speaker and consultant for AchieveMax®, Inc., a company of professional speakers who provide custom-designed seminars, keynote presentations, and consulting services. Harry's top requested topics include change management, customer service, creativity, employee retention, goal setting, leadership, stress management, teamwork, and time management. For more information on Harry's presentations, please call 800-886-2629 or fill out our contact form.