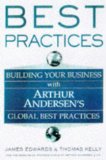 Best Practices: Building Your Business with Customer Focused Solutions

by Robert Hiebeler, Charles Ketteman, and Thomas B. Kelly
What makes the world's top companies so adept at providing stellar customer service? How do they meet the needs of every customer and still turn healthy profits? And, most important, how can you adapt their practices to fit your business?
Thanks to more than six years of ongoing research and an investment of $30 million, Arthur Andersen has created its Global Best Practices Database to uncover breakthrough thinking at world-class companies. Now, in Best Practices, Arthur Andersen for the first time shares its understanding of how more than 40 best-practices companies focus on their customers, create growth, reduce cost, and increase profits. Managers of any business in any industry can adapt and apply what those companies do best.
Unlike most books based merely on an author's own theories or limited anecdotal experience, Best Practices is backed up by 30,000 pages of active, documented data on hundreds of companies worldwide. This book concentrates primarily on customers and how to involve them in everything from the design of products and services to marketing, selling, and product delivery.
Perhaps the greatest value of the book lies in its linking of best practices to business processes, thereby encouraging managers to expand their thinking and engage in creative problem-solving with the help of insights from companies inside or outside their own industry. For example, the manager of a clothing store chain can study how Federal Express adapted the concept of just-in-time manufacturing to its rapid delivery of parts between supplier and customer. The owner of a small coffee shop chain might learn from American Express and Peapod how to target customers by offering particular products and predicting exactly when they will make their next purchases.
These and other examples will help business people diagnose the processes in place at their own companies and determine how best to improve them. Comprehensive and on the cutting edge, Best Practices will serve as an invaluable information resource.
(This book review was originally published in 2000 as one of the Top 10 Books – Edition 4.)
Harry K. Jones is a motivational speaker and consultant for AchieveMax®, Inc., a company of professional speakers who provide custom-designed seminars, keynote presentations, and consulting services. Harry's top requested topics include change management, customer service, creativity, employee retention, goal setting, leadership, stress management, teamwork, and time management. For more information on Harry's presentations, please call 800-886-2629 or fill out our contact form.