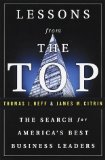 Lessons from the Top: The Search for America's Best Business Leaders

by Thomas J. Neff and James M. Citrin
What makes a business leader great? This is one of the burning questions in companies and boardrooms across America. An even more compelling question: Are there things each of us can learn from these leaders that we can apply to our own lives? Not surprisingly, there is no single answer to copy or formula to follow in order to excel in business. 
In fact, the leaders selected in Lessons from the Top are wildly different in their personalities, their paths to the top, and the industries they work in. But perhaps the best way to learn how to excel is by studying the strategies and thinking of the wide range of leaders who have proven themselves the best in their industries. 
Spencer Stuart, specialists in hiring CEOs, is one of the nation's leading executive recruiting firms. Neff is the chairman and Citrin a managing director. After several of their clients had asked them to identify the traits that make a leader successful, the firm commissioned the Gallup Organization to conduct a survey to "nominate" the best leaders in the U.S. on the basis of 10 factors, including vision, long-term performance, customer focus, and impact on business or society. 
The result was a list of 240 successful leaders, which the authors narrowed using the same proprietary criteria they use to select executives for their clients. This roster of America's 50 best is the end product. Finalists' profiles include their comments on the difficult issues, what they consider to be most important about leadership, and how those factors improve organizational performance. In the final section of the book, the authors distill the surprising number of qualities and characteristics that these extraordinarily accomplished individuals share, to offer lessons to help us in our own lives and careers. It is noteworthy that those at "the top" represent a wide range of leadership styles. 
A groundbreaking book on business and success, Lessons from the Top should be required reading by leaders—and future leaders—everywhere.
(This book review was originally published in 2000 as one of the Top 10 Books – Edition 4.)
Harry K. Jones is a motivational speaker and consultant for AchieveMax®, Inc., a company of professional speakers who provide custom-designed seminars, keynote presentations, and consulting services. Harry's top requested topics include change management, customer service, creativity, employee retention, goal setting, leadership, stress management, teamwork, and time management. For more information on Harry's presentations, please call 800-886-2629 or fill out our contact form.