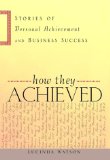 How They Achieved: Stories of Personal Achievement and Business Success

by Lucinda Watson
If I were given three wishes, I'm certain one of them would provide me with the opportunity to sit down and chat with outstanding men and women who have reached the peak of their professions. This group would include legendary CEOs, celebrated entrepreneurs, and social and cultural visionaries. I would ask them to reveal how they discovered their life's passions, how they pursued their goals, and how they overcame adversity. I'd strive to distill those special qualities of personality that separate such unique winners from the also-rans. I would then author a best-selling book followed by an equally successful audio tape that would lead to a whirlwind tour of national keynote appearances allowing me to share this valuable insight with those interested in personal growth and success.
Well, for me that happens to be one of three wishes I'd love to have granted. However, for Lucinda Watson, it's a proud reality. She did exactly what I just described as one of my three wishes. In fact, it was relatively easy for her to accomplish this admirable feat. Her father and grandfather turned IBM into "Big Blue." Now an accomplished scholar in her own right, Watson grew up surrounded by the greatest business leaders and thinkers of the twentieth century. Her unique access to these top-level achievers combined with her own training and expertise make her especially qualified to obtain their fascinating inside stories. Featured are the stories of such well-known achievers as John Sculley (Former CEO of Apple Computer), Faith Popcorn (Futurist), and Donald Kendall (former CEO of PepsiCo).
This is an intimate look at what motivates people to become high achievers. The stories are organized around three types of people and what drives them: entrepreneurs fueled by risk taking and the need to create something out of nothing; CEOs/executives driven by the desire to succeed in an already established structure; and visionaries motivated by societal concerns and wanting to make a difference in people's lives. Those interviewed remember their heroes and mentors, relive their most difficult decisions, and explain how they overcame inner demons such as fear and insecurity. What are the qualities that enable certain extraordinary individuals to transcend self-doubt and stiff competition to reach the pinnacle of success? Can these qualities be learned and emulated by others? The message they deliver is that self-confidence and self-esteem—both key ingredients for success—are not natural gifts but can be learned, developed, and strengthened.
The author discovered that strength of character, passion and hard work are the most important components to a successful business career and happy life. She brings her subjects to life, and leaves the reader with the impression of really knowing these super-achievers at a very intimate level. How They Achieved is a badly needed antidote to the Internet generation's belief of overnight success.
(This book review was originally published in 2001 as one of the Top 10 Books – Edition 9.)
Harry K. Jones is a motivational speaker and consultant for AchieveMax®, Inc., a company of professional speakers who provide custom-designed seminars, keynote presentations, and consulting services. Harry's top requested topics include change management, customer service, creativity, employee retention, goal setting, leadership, stress management, teamwork, and time management. For more information on Harry's presentations, please call 800-886-2629 or fill out our contact form.