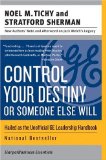 Control Your Destiny or Someone Else Will

by Noel M. Tichy and Stratford Sherman
This runaway national bestseller was originally published in 1993. In a recent cross-country trip on behalf of a client, I was fascinated to find this classic prominently displayed on the bookshelves of every major airport I passed through. There's a good reason for this well-deserved longevity. In short, the content of this masterpiece is as relevant today as it was the day it was written. Maybe even more so. 
This is an inside story written by two men who observed General Electric from very different vantage points—one as a deeply involved participant and the other as a skeptical outsider. The result—an in-depth, honest, revealing rendition of the Welch Revolution. Noel Tichy is a professor at the University of Michigan School of Business and director of the School's Global Leadership Program. He also ran GE's executive training center for two years. Stratford Sherman is a management specialist on Fortune Magazine's board of editors and has been covering the world of business since 1977. He's been writing about GE for more than a decade. 
This is the first scholarly attempt to pin down the secrets of GE's phenomenal success. Its straightforward, riveting content is sprinkled with eye-opening case studies. This is a must-read for every student of business regardless of your current position, product, service, company or industry. Here's a sample of what you'll find in this totally involving read:
The Six Rules Jack Welch Lives by:
Control your destiny or someone else will.
Face reality as it is, not as it was or as you wish it were.
Be candid with everyone.
Don't manage, lead.
Change before you have to.
If you don't have a competitive advantage, don't compete.
(This book review was originally published in 2001 as one of the Top 10 Books – Edition 6.)
Harry K. Jones is a motivational speaker and consultant for AchieveMax®, Inc., a company of professional speakers who provide custom-designed seminars, keynote presentations, and consulting services. Harry's top requested topics include change management, customer service, creativity, employee retention, goal setting, leadership, stress management, teamwork, and time management. For more information on Harry's presentations, please call 800-886-2629 or fill out our contact form.