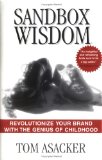 Sandbox Wisdom: Revolutionize Your Brand with the Genius of Childhood

by Tom Asacker
The title of this 121-page masterpiece should tip you off to the content. My prediction is that you will finish this memorable parable in one sitting. 
A disillusioned CEO encounters a good-natured millionaire and an adorable young lady who boasts long, black braids and a gaping hole where her two front teeth once resided. Their journey to the sandbox of wisdom is filled with insights on how to develop meaningful, lasting relationships with customers, employees, and associates. His chance meeting with these two unforgettable characters changes his business and his life forever. 
This touching story will remind you that we all tend to get so caught up in our daily routine that we forget to find the joy in our human interactions. We think business is about revenues, margins, wins and losses. It's not. It's about people, real lives, and real emotions. This book instructs us how to apply the power of child-like wonderment to the world of business. In doing so, we learn to be more creative, open-minded, enthusiastic, honest and happy. 
The wisdom presented throughout the story is easy to digest and even simpler to remember. Learn why you should never follow the Golden Rule. You'll take to heart the lessons learned for business as well as for life. This book will challenge and encourage you to re-examine your assumptions about business, success and the true meaning of work.
(This book review was originally published in 2001 as one of the Top 10 Books – Edition 6.)
Harry K. Jones is a motivational speaker and consultant for AchieveMax®, Inc., a company of professional speakers who provide custom-designed seminars, keynote presentations, and consulting services. Harry's top requested topics include change management, customer service, creativity, employee retention, goal setting, leadership, stress management, teamwork, and time management. For more information on Harry's presentations, please call 800-886-2629 or fill out our contact form.