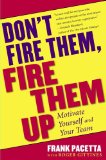 Don't Fire Them, Fire Them Up: Motivate Yourself and Your Team

by Frank Pacetta
This is a maverick's guide to motivating yourself and your team by the man who turned around sales teams at Xerox. Learn how to build a better business team: how to develop trust, create loyalty, and generate enthusiasm and excitement. This book explains how to build or rebuild an organization, lead and energize it, and put it on top and keep it there, year after year.
The author includes his top ten tips, which were featured in The Wall Street Journal and have been copied and posted on office bulletin boards everywhere. He also adds ten more top tips in this book.
This is a real-world story of winning in business by motivating employees in the most positive way possible—nurturing them, showing that you value accomplishment, and giving them the skills and the responsibility to become winners.
(This book review was originally published in 2000 as one of the Top 10 Books – Edition 5.)
Harry K. Jones is a motivational speaker and consultant for AchieveMax®, Inc., a company of professional speakers who provide custom-designed seminars, keynote presentations, and consulting services. Harry's top requested topics include change management, customer service, creativity, employee retention, goal setting, leadership, stress management, teamwork, and time management. For more information on Harry's presentations, please call 800-886-2629 or fill out our contact form.