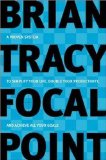 Focal Point: A Proven System to Simplify Your Life, Double Your Productivity, and Achieve All Your Goals

by Brian Tracy
Brian Tracy is one of the world's most successful speakers and consultants on personal and professional development. Each year he addresses some 450,000 people in the United States and abroad. His corporate clients have included IBM, McDonnell Douglas, Arthur Andersen, The Million Dollar Round Table, and dozens more. He is also the best-selling author of Maximum Achievement, Advanced Selling Strategies, The 21 Success Secrets Self-Made Millionaires, Eat That Frog! and The 100 Absolutely Unbreakable Laws of Business Success.
I share this information for those of you who have not yet had the pleasure of hearing Brian Tracy speak or the opportunity to read any of his previous best-sellers. For those of you who are familiar with his work, you may experience a little deja vu as he has combined the basic principles of career success and life balance he has advocated in the past with anecdotes for inspiration. The book proposes a unified approach to simultaneously achieving improvement at work and at home.
When our "ordinary" neighbor, colleague, or cousin suddenly rockets to success, most of us chalk up their good fortune to pure luck, politics, or backbreaking work. But in most cases these factors have nothing to do with it. Author Brian Tracy lets us in on the true secret of high achievers: They know how to find their focal point—the one thing they should do, at any given moment, to get the best possible results in each area of their lives.
In this powerful guide, Tracy brings together the very best ideas on personal management into a simple, easy-to-use plan. Focal Point helps readers analyze their lives in seven key areas and shows them how to develop goals and plans in each. Tracy provides timeless truths that have been discovered by effective people throughout the ages. He shows how to develop absolute clarity about who you are, what you want, and exactly how you can move quickly toward accomplishing those goals that bring you the highest level of personal satisfaction. Readers who follow these simple steps will accomplish more in the next couple of years than most people achieve in a lifetime!
(This book review was originally published in 2001 as one of the Top 10 Books – Edition 9.)
Harry K. Jones is a motivational speaker and consultant for AchieveMax®, Inc., a company of professional speakers who provide custom-designed seminars, keynote presentations, and consulting services. Harry's top requested topics include change management, customer service, creativity, employee retention, goal setting, leadership, stress management, teamwork, and time management. For more information on Harry's presentations, please call 800-886-2629 or fill out our contact form.