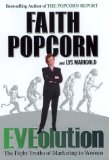 Eveolution: The Eight Truths of Marketing to Women

by Faith Popcorn and Lys Marigold
"Within a decade, the companies that do the best job of marketing to women will dominate every significant product and service category!" predicts best-selling author, Faith Popcorn. Following her success with The Popcorn Report and Clicking, her third book continues to break new ground and chart exciting new territory as she explores marketing to women.
Faith Popcorn runs a marketing consultancy in New York called BrainReserve and has been a real presence in the business world for the past two decades. She is not to be dismissed lightly as she boasts a roster of big-time clients ranging from BMW to IBM and Nabisco. When she speaks, they listen. They want her to tell them the pulse of the economy from a consumer standpoint. After all, she predicted the great success of SUVs and the failure of New Coke. She knows of what she speaks. 
The bottom line is that women today have the economic power, and corporations and marketers who want to succeed had better figure that out. Women "purchase or influence the purchase of 80% of all consumer goods." 
With references to EVEolve, EVEangelical and EVEsdropping, Popcorn shares eight essential truths of EVEolution—the trend that will redefine the way companies create profitable and lasting relationships with women.
(This book review was originally published in 2000 as one of the Top 10 Books – Edition 4.)
Harry K. Jones is a motivational speaker and consultant for AchieveMax®, Inc., a company of professional speakers who provide custom-designed seminars, keynote presentations, and consulting services. Harry's top requested topics include change management, customer service, creativity, employee retention, goal setting, leadership, stress management, teamwork, and time management. For more information on Harry's presentations, please call 800-886-2629 or fill out our contact form.