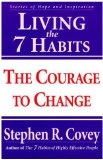 Living the 7 Habits: The Courage to Change

by Stephen Covey
Stephen Covey has been teaching people and organizations how to be more effective since 1989. He has, at times, been criticized for not using enough real-life inspirational stories in his motivational speeches and texts. This book strives to rectify that situation. 
Covey presents 70 short stories of people as they meet challenges and practice the 7 Habits. Some are ordinary slices of life while others are pivotal moments or life changes. The stories are organized thematically into four areas labeled individual, family, community and education and workplace. Covey, himself, stitches the stories together with commentary. 
If you liked Covey's previous work, if you practice the 7 Habits, and if you seek inspiration and a feeling of community, you'll want to add this book to your library.
(This book review was originally published in 2000 as one of the Top 10 Books – Edition 4.)
Harry K. Jones is a motivational speaker and consultant for AchieveMax®, Inc., a company of professional speakers who provide custom-designed seminars, keynote presentations, and consulting services. Harry's top requested topics include change management, customer service, creativity, employee retention, goal setting, leadership, stress management, teamwork, and time management. For more information on Harry's presentations, please call 800-886-2629 or fill out our contact form.