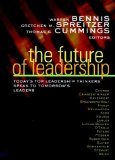 The Future of Leadership: Today's Top Leadership Thinkers Speak to Tomorrow's Leaders

by Warren Bennis, Gretchen Spreitzer, and Thomas Cummins
From time to time we're offered an accumulation of great thoughts by great minds. The Future of Leadership would certainly fall into that category. Here is a collection of provocative insights on leadership from a "who's who" of leadership thought including: Tom Peters, Charles Handy, and Jim Kouzes. A stellar cast of the world's foremost leadership gurus comes together in one place to offer their thoughts on leadership in the new economy. Edited by renowned leadership expert Warren Bennis, the book addresses issues that Bennis identifies as the ones that "keep CEOs up at night," including why we tolerate bad leaders, why leadership is everyone's business, and how ethics will play into new leadership.
With contributions from Charles Handy, Tom Peters, Barry Posner, Jim Kouzes, and Warren Bennis, no other book includes the caliber of authors and the range of thinking found in The Future of Leadership.
Essays such as "The Future Has No Shelf Life," written by Bennis, addresses some interesting questions. For example: What will the "world of organizations" look like in 2010? What will the New Leaders look like and where will they come from? What will (by then) have happened to so-called "high involvement" organizations? How will disparities in talent be resolved? Indeed, will they be? What will prove to be the impact of important demographic changes (e.g. ageism) now underway? What about the social contract between employers and employees, "that hollow implicit contract," that usually offered some form of loyalty and responsibility to both parties? How do we keep our eyes and ears open to potentially disruptive inflection points? Finally, what is the proper role of business education for the next generation?
A total of 21 people (including Bennis himself) address several of these and related questions. Their primary audience consists of tomorrow's leaders: in 2001, some are infants; others are completing college or have recently embarked on careers; and still others now occupy middle management levels. Think of the book as a "literary time capsule." Those of us who examine the contents now can re-examine them in 2010. It will be interesting to learn which observations prove important and which do not.
The material is carefully organized within six parts: Setting the Stage for the Future, The Organization of the Future, The Leader of the Future, How Leaders Stay on Top of their Game, Insights from Young Leaders, and Some Closing Thoughts. It remains for each reader, of course, to determine which essays have the greatest value. All are so well-written that, I suspect, each will have special relevance at some point between now and 2010. And perhaps beyond. Essays include Handy's "A World of Fleas and Elephants," Kouzes and Posner's "Bringing Leadership Lessons from the Past to the Future," Lipman-Blumen's "Why Do We Tolerate Bad Leaders?" O'Toole's "When Leadership Is an Organizational Trait," and Spreitzer and Cummings' "the Leadership Challenges of the Next Generation." All of the essays are outstanding. Whatever the "future of leadership" proves to be, it will have been guided and enriched by Warren Bennis as well as by those who honor him with the essays assembled in this book.
(This book review was originally published in 2001 as one of the Top 10 Books – Edition 9.)
Harry K. Jones is a motivational speaker and consultant for AchieveMax®, Inc., a company of professional speakers who provide custom-designed seminars, keynote presentations, and consulting services. Harry's top requested topics include change management, customer service, creativity, employee retention, goal setting, leadership, stress management, teamwork, and time management. For more information on Harry's presentations, please call 800-886-2629 or fill out our contact form.