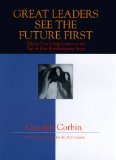 Great Leaders See the Future First: Taking Your Organization to the Top in Five Revolutionary Steps

by Carolyn Corbin
Carolyn Corbin is co-founder and president of the Center for the 21st Century, a think tank providing executive briefings, organizational training, consulting, and studies. She is also the author of the best-selling Strategies 2000 and Conquering Corporate Codependence. 
This renowned business strategist and futurist cites critical issues that impact all organizations. This thought-provoking book on leadership makes a nice connection to the need to lead differently in the face of powerful, irresistible forces that are becoming stronger. This book offers many diagnostics to give you a sense of where and how you might become more effective. 
The author heads a think-tank called the Center for the 21st Century, and she draws on a lot of forecasts to describe important issues for the new century in terms of trends. Basically, she is calling for a convergence of forces in a way that will make organizations uncomfortable places for many to work. She sees leadership as being the answer. "Leaders determine whether an organization succeeds or fails," she says. This will require a new model of leader who is more of a strategist, innovator, seer, speeder-upper, and user of new technologies in a more free-form environment with mostly project workers involved.
(This book review was originally published in 2000 as one of the Top 10 Books – Edition 4.)
Harry K. Jones is a motivational speaker and consultant for AchieveMax®, Inc., a company of professional speakers who provide custom-designed seminars, keynote presentations, and consulting services. Harry's top requested topics include change management, customer service, creativity, employee retention, goal setting, leadership, stress management, teamwork, and time management. For more information on Harry's presentations, please call 800-886-2629 or fill out our contact form.