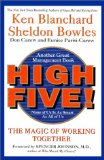 High Five! The Magic of Working Together

by Ken Blanchard and Sheldon Bowles
My favorite quote comes from Jack Welch, considered by many experts to be the 20th Century's greatest corporate leader. He said, "People always over-estimate how complex business is. This isn't rocket science!" Apparently he hit the nail right on the head. Here is still another book written as a parable. It, too, delivers its powerful message by teaming its main character with a young person and a unique mentor. A fifth grade hockey player and former girls' basketball coach teach our workaholic hero the magic of teamwork and that "none of us is as smart as all of us." This is not rocket science. However, it is a delightful and charming story that brilliantly illustrates the dynamics of teamwork and why the collective power of a group outshines individual performance. 
Blanchard's previous work warrants a mention at this point. Blanchard and company have enlightened many a reader with the following best-selling favorites … The One Minute Manager Series, Raving Fans, Mission Possible, Gung Ho!, The Heart of a Leader, Managing by Values, Big Bucks, The 3 Keys to Empowerment, How Leaders Lead, Everyone's a Coach, and Winning Ways among others. If you enjoyed his previous work, you'll want to add this classic to your business and/or personal collection.
(This book review was originally published in 2001 as one of the Top 10 Books – Edition 6.)
Harry K. Jones is a motivational speaker and consultant for AchieveMax®, Inc., a company of professional speakers who provide custom-designed seminars, keynote presentations, and consulting services. Harry's top requested topics include change management, customer service, creativity, employee retention, goal setting, leadership, stress management, teamwork, and time management. For more information on Harry's presentations, please call 800-886-2629 or fill out our contact form.