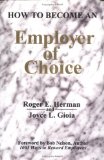 How to Become an Employer of Choice

by Roger E. Herman and Joyce L. Gioia
"Employer of Choice" … another buzz word or your key to a successful future at a time when it is indeed difficult to attract and retain qualified employees? Is employee turnover impacting your organization's ability to serve customers and maintain productivity and employee morale? Or, are you already successful in these areas and want to ensure that you continue that level of success? If you answered YES to any of these questions, you must read this book. It's written by a team of strategic business futurists who concentrate on workforce and workplace trends. They integrate a wide range of trend indicators to project change. 
There will be no issue with greater urgency or with more far-reaching consequences in the 21st century for businesses than the attraction and retention of talent. In order to meet the challenge of attracting and retaining world-class talent, organizations must position themselves as Employers of Choice.
Business success and growth in any industry is clearly linked to the attraction and retention of talent. Examine solutions and examples of how to deal with the most vexing problem organizations now confront!
(This book review was originally published in 2001 as one of the Top 10 Books – Edition 6.)
Harry K. Jones is a motivational speaker and consultant for AchieveMax®, Inc., a company of professional speakers who provide custom-designed seminars, keynote presentations, and consulting services. Harry's top requested topics include change management, customer service, creativity, employee retention, goal setting, leadership, stress management, teamwork, and time management. For more information on Harry's presentations, please call 800-886-2629 or fill out our contact form.