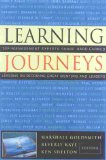 Learning Journeys: Top Management Experts Share Hard-Earned Lessons on Becoming Great Mentors and Leaders

by Marshall Goldsmith, Beverly L. Kaye, and Ken Shelton
Here's another masterpiece that belongs in your library and should be shared with everyone in your organization. This book brings together a "who's who" of today's most successful leadership experts and consultants, who share personal lessons—many learned the hard way—about what it takes to attain success. These intimate stories—about childhood experiences, school life, friendship and marriage, sports, and, of course, careers and business—reveal a compelling truth about what enables individuals to stand out as great mentors and leaders: They seize opportunities to learn wherever they find them.
Each essay includes questions for reflection to help readers apply the lessons learned to their own lives and careers. You'll learn a great deal from such notable world-class thought leaders as: Joel Barker, Wally Amos, Elizabeth Pinchot, Warren Bennis, Peter Block, Stephen Covey, Nancy Adler, Charles Garfield, Beverly Kaye, Spencer Johnson, Lou Tice, and many others.
(This book review was originally published in 2001 as one of the Top 10 Books – Edition 6.)
Harry K. Jones is a motivational speaker and consultant for AchieveMax®, Inc., a company of professional speakers who provide custom-designed seminars, keynote presentations, and consulting services. Harry's top requested topics include change management, customer service, creativity, employee retention, goal setting, leadership, stress management, teamwork, and time management. For more information on Harry's presentations, please call 800-886-2629 or fill out our contact form.