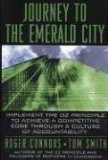 Journey to the Emerald City

by Roger Connors and Tom Smith
Building on the success of their previous book, The Oz Principle, the authors explore the direct link between a company's culture and the results it produces. Journey to the Emerald City details a clear road map for accelerating the move to a culture of accountability in which people focus on achieving the results critical to a company's future.
Filled with success stories, Connors and Smith introduce a step-by-step model to help people at any level of the organization take action that will alter the culture's belief system in order to produce the desired results.
Rather than presenting a formula for "one best way" to run an organization, the authors have provided a practical and powerful desktop guide for any organization or team leader who has a genuine interest in shifting his or her organizational culture in a "non-cookie-cutter" format.
(This book review was originally published in 1999 as one of the Top 10 Books – Edition 2.)
Harry K. Jones is a motivational speaker and consultant for AchieveMax®, Inc., a company of professional speakers who provide custom-designed seminars, keynote presentations, and consulting services. Harry's top requested topics include change management, customer service, creativity, employee retention, goal setting, leadership, stress management, teamwork, and time management. For more information on Harry's presentations, please call 800-886-2629 or fill out our contact form.