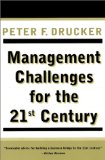 Management Challenges for the 21st Century

by Peter F. Drucker
In this book, Peter F. Drucker discusses the new paradigms of management—how they have changed and will continue to change our basic assumptions about the practices and principles of management. Drucker analyzes the new realities of strategy, shows how to be a leader in periods of change, and explains "the New Information Revolution," discussing the information an executive needs and the information an executive owes.
Incisive, challenging, and mind-stretching, Drucker's new book is forward-looking and forward-thinking. It combines the broad knowledge, wide practical experience, profound insight, sharp analysis, and enlightened common sense that are the essence of Drucker's writings, which are continuing international bestsellers and "landmarks of the managerial professional."
(This book review was originally published in 1999 as one of the Top 10 Books – Edition 2.)
Harry K. Jones is a motivational speaker and consultant for AchieveMax®, Inc., a company of professional speakers who provide custom-designed seminars, keynote presentations, and consulting services. Harry's top requested topics include change management, customer service, creativity, employee retention, goal setting, leadership, stress management, teamwork, and time management. For more information on Harry's presentations, please call 800-886-2629 or fill out our contact form.