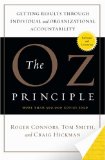 The Oz Principle: Getting Results through Individual and Organizational Accountability

by Roger Connors, Tom Smith, and Craig Hickman
Like all powerful literature, The Wizard of Oz continues to enthrall audiences because its plot strikes a nerve in most everyone. The book recounts a journey toward awareness, and, from the beginning of their journey, the story's main characters gradually learn that they possess the power within themselves to get the results they want.
Through these beloved characters, the authors draw many likenesses between the Land of Oz and today's challenging workplace. The Oz Principle shows how to create a sense of urgency and accountability for change that unleashes a power that only comes when each employee, at every level, fulfills their obligation and realizes the opportunity to participate in creating solutions.
This engaging book will put a smile on your face, warmth in your heart, and real-life tools and strategies in your hands. No doubt, you'll be sharing the contents of The Oz Principle with everyone you work with.
(This book review was originally published in 1999 as one of the Top 10 Books – Edition 2.)
Harry K. Jones is a motivational speaker and consultant for AchieveMax®, Inc., a company of professional speakers who provide custom-designed seminars, keynote presentations, and consulting services. Harry's top requested topics include change management, customer service, creativity, employee retention, goal setting, leadership, stress management, teamwork, and time management. For more information on Harry's presentations, please call 800-886-2629 or fill out our contact form.