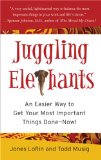 Juggling Elephants: An Easier Way to Get Your Most Important Things Done-Now!

by Jones Loflin and Todd Musig
We seem to be in the midst of a rash of parables this year. Here's another popular title consisting of a mere 131 pages. This trend might reflect the fact that people simply don't have the time to read in today's chaotic business world. If so, this is a must read.
I should probably warn you though that you may not need this particular parable. If you are already in complete control of your life, if you're maintaining total "balance" in your life, if you have plenty of time, few priorities, and very little stress―don't bother with this particular yarn. However, if you're like the rest of us, you can definitely benefit from the simple but profound story about one man struggling to balance his many responsibilities without cracking under the pressure.
I feel obligated to offer another warning. Check your ego at the reading-room door. If you take yourself too seriously, you might have trouble getting past the large print, circus illustrations and a dialogue style that sounds as though it's directed to a middle school student rather than a business executive. Oddly enough, this style actually drives home the point that effective solutions to age-old challenges can actually be extremely simplistic in nature.
Using the extended metaphor of the three-ring circus, this short volume passes along several circus maxims that easily translate to balancing professional and personal relationships as well as one's personal pursuits.
The story begins as the married daughter of our protagonist burst into her father's office requesting advice in dealing with a life that seems to be collapsing all around her: in her career, personal relationships, and personal development. Mark, the dad, comes to the rescue by admitting that he once shared the same challenge and discovered his solution during a trip to the circus with his wife and daughter years earlier.
The extended metaphor of a three-ring circus is not only clever but memorable. Mark reveals a chance meeting with an off-duty ringmaster, Victor, from another circus who is on a benchmarking venture in search of new creative ideas. Victor guides him through the steps of becoming the ring master of his life with the three rings being Work, Family, and Self. Mark shares this wisdom with his daughter in an effort equip her with the strategies to deal with her challenges. This wisdom includes:
With regard to achieving and then maintaining "balance" in one's life, the objective should not be to balance everything; rather, to balance only what is most important.
Trying to juggle elephants doesn't help anyone. You can't do it, the elephants aren't having any fun, and the audience isn't enjoying an act going nowhere.
The ringmaster cannot be in all three rings at once.
The key to the success of the circus is having quality acts in all three rings.
There is no shortage of acts for the circus.
The relationship between the ringmaster and the performers affects the quality of the circus.
Intermission is an essential part of creating a better circus performance.
Your circus is only as good as your next performance.
This parable passes along several circus maxims that easily translate to balancing professional and personal relationships and teaches us how to better coordinate the activities happening in each ring.
While the advice is not new by any means, the re-frame is refreshing and memorable. Juggling Elephants is incredibly lighthearted and will be appreciated by anyone feeling overwhelmed by their current circumstances. It will help you better focus your time and energy so you'll be able to enjoy more of the things that are important to you. Above all, it will teach you how to run your circus instead of letting the circus run you.
(This book review was originally published in 2008 as one of the Top 10 Books – Edition 17.)
Harry K. Jones is a motivational speaker and consultant for AchieveMax®, Inc., a company of professional speakers who provide custom-designed seminars, keynote presentations, and consulting services. Harry's top requested topics include change management, customer service, creativity, employee retention, goal setting, leadership, stress management, teamwork, and time management. For more information on Harry's presentations, please call 800-886-2629 or fill out our contact form.