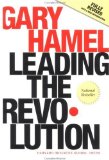 Leading the Revolution: How to Thrive in Turbulent Times by Making Innovation a Way of Life

by Gary Hamel
What you will probably notice immediately upon picking up this book is the glossy, heavy-weight paper, the stunning colorful photos, and the vivid, attractive diagrams and charts. Once into the content, you'll note a similarity to Tom Peters' commentary on the necessity of revolution, rebellion, and change. If you enjoyed Hamel's first book, Competing for the Future, and Tom Peters' approach to revolution, you'll appreciate the author's no-holds-barred assessment of the issues facing companies all around the world as they struggle to catch up with the new economy.
Based on an extensive study of revolutionaries, this book is packed with insight and practical advice. Leading the Revolution shows you how to: 
Get off the treadmill of incrementalism
Harness the imagination and passion of every employee
Save your company from becoming a "one-vision wonder"
Create vibrant internal markets for ideas, capital, and talent
Drawing on the examples of activists who profoundly changed their companies, the author outlines the practical steps anyone can take to lead a successful revolution in their own organization.
(This book review was originally published in 2001 as one of the Top 10 Books – Edition 6.)
Harry K. Jones is a motivational speaker and consultant for AchieveMax®, Inc., a company of professional speakers who provide custom-designed seminars, keynote presentations, and consulting services. Harry's top requested topics include change management, customer service, creativity, employee retention, goal setting, leadership, stress management, teamwork, and time management. For more information on Harry's presentations, please call 800-886-2629 or fill out our contact form.