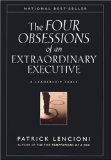 The Four Obsessions of an Extraordinary Executive: A Leadership Fable

by Patrick Lencioni
This is the stunning follow-up to the author's best-selling book, The Five Temptations of a CEO. You'll certainly enjoy the author's profound insights and the simplicity of his theories. According to Lencioni, there are truly only four things that should keep you, as a leader, up at night in order to sustain a successful organization. The rest can and should be delegated to your able team. 
This book is a very quick read that still manages to hit you right between the eyes with a one-two punch of reality and hope. I don't know how he does it, but the author has a knack for story-telling that will convince you that he knows your organization and your people as well as you do … maybe even better. The good news is that he articulates a straight-forward prescription for a better functioning organization. This is a powerful model for any organization, large or small.
(This book review was originally published in 2001 as one of the Top 10 Books – Edition 6.)
Harry K. Jones is a motivational speaker and consultant for AchieveMax®, Inc., a company of professional speakers who provide custom-designed seminars, keynote presentations, and consulting services. Harry's top requested topics include change management, customer service, creativity, employee retention, goal setting, leadership, stress management, teamwork, and time management. For more information on Harry's presentations, please call 800-886-2629 or fill out our contact form.