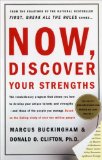 Now, Discover Your Strengths

by Marcus Buckingham and Donald Clifton, Ph.D.
From the coauthor of the national bestseller First, Break All The Rules comes the revolutionary program that shows you how to develop your unique talents and strengths—and those of the people you manage. It's based on the Gallup study of more than two million people.
At the heart of the book is the Internet-based StrengthsFinder Profile, the product of a 25-year, multimillion-dollar effort to identify the most prevalent human strengths. This book contains a unique identification number that allows you to access the profile on the Internet. This Web-based interview analyzes your instinctive reactions and immediately presents you with your five most powerful signature themes. Once you know which of the 34 themes you lead with, the book will show you how to leverage them for powerful results. With profound insights on how to turn talents into strengths, and with the immediate online feedback at its core, this is one of the most ground-breaking and useful business books ever written.
(This book review was originally published in 2001 as one of the Top 10 Books – Edition 6.)
Harry K. Jones is a motivational speaker and consultant for AchieveMax®, Inc., a company of professional speakers who provide custom-designed seminars, keynote presentations, and consulting services. Harry's top requested topics include change management, customer service, creativity, employee retention, goal setting, leadership, stress management, teamwork, and time management. For more information on Harry's presentations, please call 800-886-2629 or fill out our contact form.