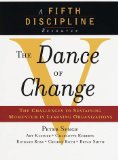 The Dance of Change: The Challenges to Sustaining Momentum in Learning Organizations

by Peter Senge
A follow-up on his groundbreaking book The Fifth Discipline, Peter Senge has written The Dance of Change for managers and executives at every level of an organization, revealing how business leaders can work together to anticipate the challenges that profound change will ultimately force the organization to face. Filled with individual and team exercises, in-depth accounts of sustaining learning initiatives by managers and leaders in the field, and well-tested practical advice, this book provides an insider's perspective on implementing learning and change initiatives at leading organizations around the world.
You don't have to read this book from cover to cover. Just open to any page; you'll be surprised and challenged. On every page an idea stops you in your tracks and makes you rethink everything you thought you knew about the subject.
(This book review was originally published in 1999 as one of the Top 10 Books – Edition 2.)
Harry K. Jones is a motivational speaker and consultant for AchieveMax®, Inc., a company of professional speakers who provide custom-designed seminars, keynote presentations, and consulting services. Harry's top requested topics include change management, customer service, creativity, employee retention, goal setting, leadership, stress management, teamwork, and time management. For more information on Harry's presentations, please call 800-886-2629 or fill out our contact form.