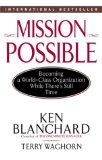 Mission Possible

by Ken Blanchard and Terry Waghorn
This book was written for all living in organizations today who are dealing with the reality of having to improve their present operation and design their future at the same time.
The authors have a message for you: Your organization is dying! To stay alive in the short run, you must improve quality, profits, and customer service. Blanchard and Waghorn tell you how.
But that's not enough. Before you know it, your organization may be obsolete, unless you start re-creating it for the future. Managing your present organization while creating a world-class future—that's your mission—should you and your organization choose to accept it. Blanchard and Waghorn say, Mission Possible!
(This book review was originally published in 1999 as one of the Top 10 Books – Edition 2.)
Harry K. Jones is a motivational speaker and consultant for AchieveMax®, Inc., a company of professional speakers who provide custom-designed seminars, keynote presentations, and consulting services. Harry's top requested topics include change management, customer service, creativity, employee retention, goal setting, leadership, stress management, teamwork, and time management. For more information on Harry's presentations, please call 800-886-2629 or fill out our contact form.