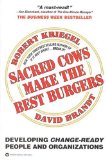 Sacred Cows Make the Best Burgers: Developing Change-Ready People and Organizations

by Robert Kriegel and David Brandt
Tackling one of the most important business issues of today, the authors demonstrate why the latest panaceas—re-engineering, virtual teams, outsourcing, reinventing, restructuring, downsizing—almost always prove unsuccessful. They expose how these buzzword programs overlook the most fundamental element of all business: people. After all, people are the gatekeepers of change, with the power to breathe life into a new program or kill it. If they're excited and positive, it's open sesame; if they're resistant, they'll slam the door in your face.
Outmoded beliefs, practices, and processes … why do so many business people cling to their established ways as if their lives depended on them? The very things they refuse to give up, the sacred cows of the business world, are the lodestones that will kill their careers and their companies' path to success? In this insightful and unique guide, the authors reveal why people hold on to the old and how to inspire them to bring on the new—to the point where they're enthusiastically turning even their favorite sacred cows into burgers. This entertaining book offers concrete strategies to help you identify sacred cows, round them up, and put them out to pasture. Getting to the heart of the matter, Kriegel and Brandt show you how to coach yourself and others to create Change-Ready people.
(This book review was originally published in 1999 as one of the Top 10 Books – Edition 2.)
Harry K. Jones is a motivational speaker and consultant for AchieveMax®, Inc., a company of professional speakers who provide custom-designed seminars, keynote presentations, and consulting services. Harry's top requested topics include change management, customer service, creativity, employee retention, goal setting, leadership, stress management, teamwork, and time management. For more information on Harry's presentations, please call 800-886-2629 or fill out our contact form.