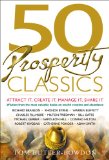 50 Prosperity Classics: Attract It, Create It, Manage It, Share It (50 Classics)

by Tom Butler-Bowdon
I've already reviewed the acclaimed trilogy written by this particular author. You might want to revisit those three reviews as they are certainly very valuable resources that should be kept at arm's length of your personal office and/or home library. Simply click on the following links for these reviews:
The author now follows up those terrific resources with 50 Prosperity Classics. I should again alert you to the fact that you more than likely will not find these titles on the shelves of your local book store but can certainly order them very easily from your favorite store or online from Amazon.com.
This fourth book focuses on the great works on wealth, entrepreneurship, personal finance, investing, economics and philanthropy, providing guidance and encouragement to develop the millionaire mindset, become a wealth creator, make wise investment decisions and―once you've made it―give a little back.
Butler-Bowdon follows the same reader-friendly format here that was so successful in his trilogy. I'll explain that template here and then share the individual content under each title. Each classic has its own chapter which is reasonably short and to the point while extremely revealing. The first page of each chapter begins with a few notable quotes from the classic followed by a feature titled "In a nutshell." This profile summarizes the entire classic in one or two sentences followed by another interesting feature, "In a similar vein," which lists several other classics that address the same subject. Thus far–one page.
The author then offers the main idea, context, and impact of the book itself followed by a short, interesting biography of the author.
The author has organized his content into four elements for easier access to this reader-friendly material.
Attract It: Master the inner game of wealth and abundance with books such as Rhonda Byrne's bestselling The Secret, Charles Fillmore's Prosperity, Napoleon Hill's The Master Key to Riches.
Create It: Learn from the secrets and strategies of wealth creators such as Richard Branson, Bill Gates, Conrad Hilton, Anita Roddick and Donald Trump.
Manage It: Discover the nuts and bolts of personal finance and investing such as Benjamin Graham's The Intelligent Investor, Suze Orman's Women and Money, Dave Ramsey's Financial Peace Revisited and Peter Lynch's One Up on Wall Street.
Share It: Understand the flow of wealth and how to give something back with inspiration from Andrew Carnegie's The Gospel of Wealth, Paul Hawken's Natural Capitalism and Lynne Twist's The Soul of Money.
This book is loaded with wisdom in the form of interesting quotes from some of the greatest minds in this area.
The book concludes with five pages of "Prosperity Principles" and recommendations for 50 additional prosperity classics.
(This book review was originally published in 2009 as one of the Top 10 Books – Edition 20.)
Harry K. Jones is a motivational speaker and consultant for AchieveMax®, Inc., a company of professional speakers who provide custom-designed seminars, keynote presentations, and consulting services. Harry's top requested topics include change management, customer service, creativity, employee retention, goal setting, leadership, stress management, teamwork, and time management. For more information on Harry's presentations, please call 800-886-2629 or fill out our contact form.