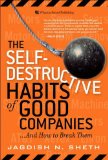 The Self-Destructive Habits of Good Companies: … And How to Break Them

by Jagdish N. Sheth
Think back over the years and recount the number of very flourishing businesses that were promoted in magazines, on TV, and in management courses as great companies destined for successful futures. Many of them are no longer with us or are struggling to survive.
In fact, the companies profiled in Tom Peters' business classic In Search of Excellence would not be selected for such a book today. Nor could the same lessons be drawn from their current position and behavior in the marketplace. Were they poor choices at the time or was it "good gone bad"? Obviously it was the latter as those companies appeared to be doing everything right at that time.
Now look at the current marketplace as we note similar organizations that are flying high one minute and wondering what happened the next. For example, consider Sears, General Motors, Xerox, Jet Blue, Enron, AT&T, Motorola, Kmart, IBM, Arthur Anderson, Tyco, Ford Motor, Health South, Global Crossing, WorldCom, A & P, Firestone, Krispy Kreme, Kodak, Intel, Digital, Chrysler and the list goes on and on. Once all hailed as ultimate examples of excellence, their future success not only seemed assured but inevitable. Yet, before anyone saw it coming, the wheels came off, and these companies were fighting to survive. Some may not recover, some have already somewhat rebounded, and some may take years to reach the level they once enjoyed. What happened?
This book talks about what happens to successful companies that leads to their getting into serious trouble. The author identifies seven dangerous habits even well-run companies fall victim to—and helps you diagnose and break these habits before they destroy your company.
Through case studies from some of yesterday's most widely praised corporate icons, you'll learn how companies fall victim to these self-destructive habits seemingly overnight. He sheds light on why some never turn around and how others achieve powerful turnarounds, moving on to unprecedented levels of success.
For decades we have suggested the tremendous value of learning priceless lessons from observing both good and bad habits of other organizations. Far too few take the time and energy to do so. However, they will later find themselves investing far more resources in an effort to recover from situations they could easily have avoided had they been more proactive. Go figure.
In addition to identifying these critical self-destructive habits, the author more importantly provides specific, detailed techniques for "curing"—or, better yet, preventing—every one of these self-destructive habits.
The last chapter discusses why it is better to never need the "cures" he describes in each of the chapters. Look over the following seven habits in search of any which may exist in your current environment. I think you might be surprised as to what you find. If so, you'll want to share this list with your associates, discuss each in depth, and formulate the proper strategy before it's too late. It is much better to wake up before the crisis and keep your company alive and thriving by preemptive action.
Because habits (both good and bad) are learned behaviors, not inevitabilities, it is possible to acquire them or eliminate them. The choice is yours.
The "cocoon" of denial: Find it, admit it, assess it, and escape it.
The stigma of arrogance: Escape this fault that "breeds in a dark, closed room."
The virus of complacency: Six warning signs and five solutions.
The curse of incumbency: Stop your core competencies from blinding you to new opportunities.
The threat of myopia: Widen your view of your competitors—and the dangers they pose.
The obsession of volume: Get beyond "rising volumes and shrinking margins."
The territorial impulse: Break down the silos, factions, fiefdoms, and ivory towers.
(This book review was originally published in 2007 as one of the Top 10 Books – Edition 16.)
Harry K. Jones is a motivational speaker and consultant for AchieveMax®, Inc., a company of professional speakers who provide custom-designed seminars, keynote presentations, and consulting services. Harry's top requested topics include change management, customer service, creativity, employee retention, goal setting, leadership, stress management, teamwork, and time management. For more information on Harry's presentations, please call 800-886-2629 or fill out our contact form.