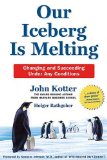 Our Iceberg Is Melting: Changing and Succeeding Under Any Conditions

by John Kotter and Holger Rathgeber
Here's still another of the popular mini-books (147 pages) we see adorning the shelves of our favorite bookstore haunts today. There are several reasons for this growing trend:
The quick-read format provides convenience for readers coping with today's chaotic time challenges.
The use of the ever-popular fable to influence behavior.
The gift of wisdom, strategies, and tools to cope with real-world challenges in the work place.
For these reasons, you can expect to continue to see these classics emerge, entertain and educate as long as there are gifted writers to convey these critical lessons.
This particular fable comes to us from two gentlemen who know of what they speak. John Kotter is a leadership and change guru at Harvard Business School who has authored 11 business bestsellers, and Holger Rathgeber is a highly respected modern global manager.
Our Iceberg Is Melting presents a framework for an effective corporate change initiative through the tale of a colony of Antarctic penguins facing the danger of global warming. This colony of penguins will remind you of your typical business organization as they take on the personality traits and demonstrate the leadership skills of many of the characters we work with on a regular basis.
The central character is a particularly astute middle management Emperor Penguin named Fred who has identified a major challenge in the reality that the iceberg they call home is melting. His first obstacle is to convince everyone that there is a problem which must be dealt with.
Fred experiences frustration in having to deal with No No, the penguin who resists change, actively and passively. No No, of course, represents those many people in any organization who are basic blockers to change. Other recognizable personalities include: the naysayers and nitpickers, the innovators and agitators, the leaders and followers. The idea is that everyone in a group must play a role in navigating change. Fred must convince his colony's Leadership Council that his research has discovered that if they don't move to another iceberg soon they will suffer disaster beyond their comprehension.
They must implement a thoughtful plan for leading their fellow penguins in the colony through a time of necessary but gut-wrenching change. They quickly discover that the central issue is never strategy, structure, culture, or systems. Although each of these elements are important … the core of the matter is always about changing behaviors of those involved.
This is where we are introduced to the "The Eight Step Process of Successful Change." The following chapters explain the critical flow of a successful change effort as we witness the colony discover that change is a never-ending process rather than an ultimate destination.
We, too, must realize that we continue to face many changes such as sales, technology, global competition, profits, ROI, retention, customer service, market share, etc. Desirable change is an on-going, never-ending process which demands one requirement above all others: adapt or perish.
This book is a must read for everyone who manages people at any level and recognizes the challenges involved with that responsibility. The eight-step change process is profound and can be applied to any organizational change effort.
Each step of this change process is also illustrated in some entertaining videos on Kotter's web site at www.ouriceburgismelting.com.
(This book review was originally published in 2009 as one of the Top 10 Books – Edition 19.)
Harry K. Jones is a motivational speaker and consultant for AchieveMax®, Inc., a company of professional speakers who provide custom-designed seminars, keynote presentations, and consulting services. Harry's top requested topics include change management, customer service, creativity, employee retention, goal setting, leadership, stress management, teamwork, and time management. For more information on Harry's presentations, please call 800-886-2629 or fill out our contact form.