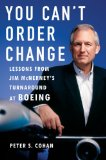 You Can't Order Change: Lessons from Jim McNerney's Turnaround at Boeing

by Peter S. Cohan
What a fantastic title. Short, basic and true wisdom indeed! Many people don't immediately recognize the name of Jim McNerney and may therefore wonder why a book would be written about his accomplishments. Let's see if we can address that issue.
GE has developed a reputation as a breeding ground for CEOs. Jim McNerney was one of Jack Welch's top protégés at General Electric and one of three finalists to replace the retiring Welch as CEO:
Welch made a judgment call in choosing insider Jeffrey Immelt over the other two finalists. The wisdom of that choice will be debated for decades to come.
Robert Nardelli was passed over for the leadership post. However, Home Depot snatched him away as its chairman and CEO where he stayed for six years before moving on to take the post of Chairman and CEO at Chrysler Corporation.
McNerney was also passed over and immediately accepted an offer to move to 3M as the Chairman and CEO. He stayed with 3M for five years before choosing passenger planes over Post-It notes by taking the helm at The Boeing Company as Chairman of the Board, President, and CEO. In doing so, he offered stability and a top-notch executive pedigree to a company that has steadfastly refused to be shaken by two CEO resignations in less than two years.
McNerney has quite an impressive background, spending three years at Proctor and Gamble as a brand manager, four years as a management consultant at McKinsey & Company, and 19 years at General Electric followed by five years at 3M. That's quite a resume. He has since emerged as one of the most effective leaders of his generation.
This is the eighth book for author, Peter S. Cohan, who is a noted management consultant and venture capitalist. The focus of this particular work is a study of how McNerney manages Boeing. To do so, he interviewed people who worked with McNerney over the years to discover his approach to accountability, strategy, operations, growth, cost-cutting, leadership development, customer focus, and many other universal challenges.
You Can't Order Change tells the amazing story of McNerney's turnaround at the world's leading aircraft manufacturer, which had faced a series of tough problems. Boeing is extremely hard to run, with more than $66 billion in annual revenue and 161,000 employees. McNerney continues to face dynamic challenges in a global business impacted by worldwide economic constraints.
Pressure to boost revenues and cut costs led him to develop a leadership style designed to win the hearts and minds of employees. His mantra—"you can't order change"—implies that change must come from employees if it is to succeed.
McNerney has come up with very effective techniques for addressing 11 common CEO challenges. The author describes each technique complete with examples of how McNerney used them to improve performance.
Help Your People Get 15% Better.
Lead Groups to Higher Ground.
Link Pay to Profit and Process, Not Stock Price.
Build Strategy on Customer Focus.
Invest in Your Strengths.
Grow Through People, Not Deals.
Tackle Challenging Situations Quickly and Effectively.
Tighten Operations with Process-Improvement Tools.
Partner with Global Suppliers to Reduce Risk and Accelerate Time to Market.
Make Ethics and Compliance a Clear Competitive Advantage.
Cut Your Company's Environmental Footprint.
This book is certainly reader-friendly and will help executives tackle persistent and difficult leadership problems while motivating employees and producing results.
(This book review was originally published in 2009 as one of the Top 10 Books – Edition 20.)
Harry K. Jones is a motivational speaker and consultant for AchieveMax®, Inc., a company of professional speakers who provide custom-designed seminars, keynote presentations, and consulting services. Harry's top requested topics include change management, customer service, creativity, employee retention, goal setting, leadership, stress management, teamwork, and time management. For more information on Harry's presentations, please call 800-886-2629 or fill out our contact form.