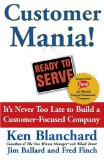 Customer Mania! It's Never Too Late to Build a Customer-Focused Company

by Ken Blanchard, Jim Ballard, and Fred Finch
Here we have another must-read book to add to your corporate or personal library in your ever-growing Ken Blanchard section. There are a number of reasons to classify Blanchard's latest contribution as a must read—not least of which is the author himself. He has authored or co-authored more than 30 books, including one of the best-selling business books of all time, The One Minute Manager and the giant business best-sellers Raving Fans, Gung Ho!, and Whale Done! We've previously reviewed many of his best-sellers on our website. Credited with 15 best-sellers to date, his books have combined sales of more than 17 million copies in 27 languages. There is good reason for those numbers. This man knows of what he speaks.
Blanchard and his two co-authors, Jim Ballard and Fred Finch, draw on lessons gleaned from the world's largest restaurant chain as they explain that any company, large or small, can develop a unified, people-first, customer-oriented culture. This relatively small book (195 pages) is packed with practical insights, concepts, strategies, tools, tips, and case studies that will leave you eager to share with your team in an effort to create your own Customer Mania!
Time and space restraints prohibit my sharing the myriad of valuable suggestions and examples offered within the pages of Blanchard's soon-to-be next best-seller. However, I can tell you Customer Mania! emphasizes four critical steps:
Set your sights on the right target.
Treat customers the right way.
Treat employees the right way.
Build the right kind of leadership.
Don't be misled by the simplicity or familiarity of these powerful steps. The authors not only define each step but also provide vivid examples of each as demonstrated by the world's largest restaurant company, YUM! They also share the impressive success this company has enjoyed as a result of its focused efforts around the four critical steps.
You may not be familiar with the name YUM!, but I'm sure you're familiar with its products, service, and success. In 1997 KFC, Taco Bell, and Pizza Hut had been spun off from PepsiCo to form a new entity, Tricon. At that time, Tricon's balance sheet was in trouble. The new company inherited a $4.7 billion debt and its return on invested capital hovered at a feeble 8 to 9 percent. As if that weren't a big enough challenge, in 2002 Tricon bought two additional quick service restaurant brands—Long John Silver's and A & W All American Food Restaurants—and in the process became the world's largest restaurant. At this point, Tricon changed its name to YUM! Brands. Given its financial situation and the sheer size of the enterprise, the task of creating massive cultural change was daunting! Think change is difficult? Try it with 840,000 employees at 33,000 restaurants in more than 100 companies!
Was YUM! successful? Since its spin-off in 1997 from PepsiCo, YUM! has more than tripled its earnings per share, doubled its return on investment capital and has taken the market capitalization from $3.7 billion to $10 billion! The $4.7 billion of debt YUM! was saddled with is now just $2.1 billion, and today the company has an investment-grade quality balance sheet. In short, not bad! Wanna know how YUM! did it? Read this book!
Regardless of how large or small your company is—whether it's conservative or cutting-edge, old or new, whether it involves top level executives or front counter folks—you can build it right by focusing on your customers too.
(This book review was originally published in 2005 as one of the Top 10 Books – Edition 13.)
Harry K. Jones is a motivational speaker and consultant for AchieveMax®, Inc., a company of professional speakers who provide custom-designed seminars, keynote presentations, and consulting services. Harry's top requested topics include change management, customer service, creativity, employee retention, goal setting, leadership, stress management, teamwork, and time management. For more information on Harry's presentations, please call 800-886-2629 or fill out our contact form.